Geisha in Japanese Movies – Updated
From acclaimed screenwriter Kankuro Kudo (Ping Pong, Yaji, Kita: The Midnight Pilgrims and Takashi Miike's Zebraman), comes Maikohaaaan!!!, a colorful introduction to Japan s Maiko world and a slapstick comedy with an energetic twist of Kyoto humor.
The film centers on Japanese office worker Kumihiko Onizuka (Sadao Abe, from Kamikaze Girls), who dumps his girlfriend (Kou Shibasaki) because he believes he can only fall in love with a Maiko (apprentice Geisha). He decides to pursue his dream of courting a real Maiko in Kyoto, but must first overcome the social barriers that prevent him from visiting the private Maiko Houses, as well as a millionaire baseball player rival (Shinichi Tsutsumi). Meanwhile, Kumihiko s girlfriend tries to win him back by leaving Tokyo to become a Maiko herself.
Young Tokiko works at a geisha house as a maid, waiting for her maiko practice (apprenticeship of geisha) to begin. The movie depicts detailed lifestyle of geishas at that time, showing their rules, loves, beauties and humanities.
Directed by Go Ohara (the action director of Death Trance), Geisha Assassin follows the story of Kotono (newcomer Minami Tsukui), a beautiful geisha who inherits a secretly-guarded sword and uses it to pursue Hyoe, the man who killed her father. Throughout her quest to face-off against Hyoe, Kotono battles Japan s most notorious female ninjas and assassins only to learn a hidden secret.
Set in a 19th-century brothel, THE SEA IS WATCHING is the story of a beautiful young geisha, O-Shin(Nagiko Tohno), who harbors a samurai (Rhapsody in August's Hidetaka Yoshioka) seeking refuge. Falling in love with O-Shin, the samurai hopes to cleanse her of the sins of her profession. But fate and fortune conspire to keep the lovers apart. When another young man (Masatoshi Nagase, Mystery Train) appears, a thunderous storm strikes their village. What, if anything, will survive nature's fury? This stunning epic was the final film written by legendary director Akira Kurosawa (The Seven Samurai, Ran). Hand-picked by Kurosawa's son, director Kei Kumai delivers a visually striking love story for the ages.
The twisted geniuses behind The Machine Girl and Tokyo Gore Police present a tale of sibling rivalry, chainsaw faces, machine gun boobs, and butt blades.
Kikuke is a geisha known for her glamour and grace. Yoshie is her abused sister, banished to the shadows. When a mysterious corporation transforms their soft bodies into murderous machines, the rival vixens rush toward an ultraviolent final confrontation.
Apparently this began life as an update (albeit a bit toned down) of Mizoguchi's earlier Sisters of the Gion, though it didn't quite end up that way. Tony Rayns' introductory comments were useful, for me at least, in trying to get my head around this, particularly his observation that the post-war geisha was treated like (and, to at least some extent, really was) essentially a higher grade of prostitute in a way that the traditional pre-war geisha wasn't. This, then, kind of explains the plight of Eiko in this film; quite apart from the fact that becoming a geisha is about the only recourse she has in her situation (mother dead, essentially abandoned by useless father to the care of horrible uncle), she wants to be a traditional geisha rather than just a skilled hooker, but her more "modern" attitudes will threaten to be the undoing not only of herself, but also her mistress Miyoharu who's taken her in and brought her up. In the post-war climate presented here, the geisha are barely even treated like human beings; instead they're both slightly expensive pawns in business dealings between the film's two main male characters, and when it comes to business they can't count on female solidarity (shades of Women of the Night), not when the madame of one tea house illegally blacklists them from working anywhere in the Gion. Apparently this tale of "intangible cultural assets" is generally considered lesser Mizoguchi, which seems a bit unfair, I'd say it's at least as good as any of his other films that I've seen… although certainly I don't think you could describe it as uplifting (just like all his other films I've seen thus far, then), despite which there's still an approximate note of hope in there: whatever travails the two will face in future, Miyoharu will be there to shield Eiko from them as best as she can.
The world is in turmoil with the October Revolution of 1917, riots over the inflationary price of rice, and the military expedition to Siberia in 1918. But Shinsuke spends his days in the arms of geishas, paying little heed to the events happening around him.

The Blind Swordsman: Zatoichi [Blu-ray]
Inventive and bold, this film shines with pristine picture and theater-quality sound on Blu-ray Disc™. In an empire ruled by fear, the people's only hope is the ultimate weapon: Zatoichi (Takeshi Kitano) — a blind, nomadic samurai whose sword has made him a hero and whose courage has made him a legend. Determined to help the desperate residents of a village, Zatoichi seeks justice through revenge. It's a wildly entertaining film that's even more brilliant in Blu-ray™ High Definition.
A fifty-year-old prostitute, no longer able to attract men, looks back on her sad life. Once a lady-in-waiting at the imperial court at Kyoto, Oharu fell in love with, and became the lover of, a man below her station. They were discovered, and Oharu and her family were exiled. For Oharu there followed a life filled with one sorrow and humiliation after another.
Two geisha sisters lead a hard life in the Gion district of Kyoto. After one of them feels obliged to support a bankrupt businessman, the other sister sets up various schemes to get rid of him.
Yokiro was the most successful Geisha house in Western Japan during the first half of the 20th century and remains open to this day. At its peak, it was home to over 200 geisha, however behind the fabulous facade, there were many battles – between family members, men and women, and with the Yakuza. Momokawa was sold to Yokiro at age 12, and despite being the top geisha, her many complicated relationships provide unending challenges throughout her glamorous but turbulent life.
Story of the Late Chrysanthemum (Zangiku monogatari) was the only film made in 1939 by the astonishingly prolific Japanese director Kenji Mizoguchi). The plot, based on an ancient legend, concerns the son of a renowned Kabuki actor. When the son falls in love with a servant girl, his father violently opposes the union. This, coupled with several impulsive decisions by the younger people, eventually results in tragedy. Like many of Mizoguchi's best works, this dwells upon the adverse results stemming from class consciousness and the depersonalization of women.
To celebrate the coronation of a new Emperor, a series of pardons release hundreds of Yakuza from jail — men who, perhaps, would have been better off behind bars. The world they left, defined by a rigid code of honor, is giving way to a new world with a new set of rules — the ends justify the means. As one of these men comes to realize how corrupt his world has become, he must decide whether to bend like bamboo and survive, or uphold the old traditions — and die. Starring Tatsuya Nakadai (Ran/Seven Samurai) and with score by Kurosawa's legendary composer, Masaru Sato.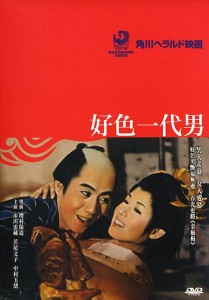 A Lustful Man / The Sensualist
A man's erotic encounter with a courtesan in the 1700s.
Life of a sensual man appears related to Life of Oharu – Koshoku Ichidai wrote the novel.
Still censored in its own country, In the Realm of the Senses (Ai no corrida), by Japanese director Nagisa Oshima, remains one of the most controversial films of all time. A graphic portrayal of insatiable sexual desire, Oshima's film, set in 1936 and based on a true incident, depicts a man and a woman (Tatsuya Fuji and Eiko Matsuda) consumed by a transcendent, destructive love while living in an era of ever escalating imperialism and governmental control. Less a work of pornography than of politics, In the Realm of the Senses is a brave, taboo-breaking milestone.
A young Korean Taekwondo competitor arrives in Japan near the end of World War II with hopes of being a fighter pilot, but ends up on the streets battling racism, organized crime, occupying American servicemen, and his own fear of failure as a martial artist. He retires to the wilderness for two years to train his body in the art of karate and returns to take on the world.
Master rokudo "dirty storyteller" artist Shomantei lies in his hospital deathbed. His disciples gather round as he whispers his dying wish: to see a woman's "honeypot". This is a dirty old man known for lewd tales, it make sense to them so they go on a quest to bring the old master a lovely young lady. In the end the request is granted and asked about it he remarks that he only wanted to see outside and dies instantly from the shock! This is a film in theCarry On vein, funny but crass; based on a novel by Ramo Nakajima. Geisha appear at the wake and banquet but are not a focus of the film, traditional geisha entertainments of song, drinking and shamisen appear.