Hanamachi – Geisha Districts
Hanamachi – literally "flower town" is a district where geisha entertainment is centered. Each district has its own okiya (geisha households), ochaya (teahouses for entertaining) and kaburenjo (geisha district office). In the high days of geisha history each hanamachi had its own ranking and long lineage – names, kimono, dances and culture were passed on between generations. Today several districts survive and while the differences are lessened there is still loyalty and pride in each district.
Hanamachi of Kyoto
先斗町 ~ Pontochō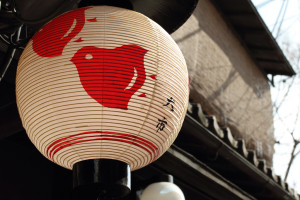 Ponto-chō is a portmanteau word from "ponte" for bridge and chō – neighbourhood. Ponto-chō centres around one long alley running from Shijō-dōri to Sanjō-dōri, one block west of the Kamo River. Ponto-chō has been an active geisha district since the 16th century and traditional architecture with wooden patios and arched bamboo eaves are maintained throughout the area.
Today most of the businesses in Ponto-chō are high class entertainment venues like tea houses and restaurants featuring Kyoto-ryori – formal Kyoto cuisine served on verandas looking over the Kamo river. Ponto-chō is home to its own Kaburenjo Theatre and each year the Kamogawa Odori dances are held by the district geisha.
The symbol for Ponto-chō is a stylised Plover bird – Chidori in Japanese. Chidori can be found not only on the same district lanterns as other geisha districts but traditional souvenirs like fans, chopsticks and ceramics sold in stores in the neighbourhood.
宮川町 ~ Miyagawachō
Miyagawachō means "shrine river neighbourhood" and refers to the Kamo River just south of Shijo so named for the shrine purification rites that used to occur there during the Gion Festival. Miyagawachō was once a lively kabuki theatre district where geisha entertainments flourished to service the theatre crowds.
While Kabuki is no longer the popular entertainment it once was the Minami-za kabuki theatre of Kyoto still stands on the east bank of the Kamo River. Miyagawachō has its own kaburenjo theatre where performances are held by geisha throughout the year, the annual dances at Miyagawachō are the Kyo Odori.
The symbol for Miyagawachō is three interconnected rings symbolising the unity of shrines, townspeople and teahouses.
祇園 – Gion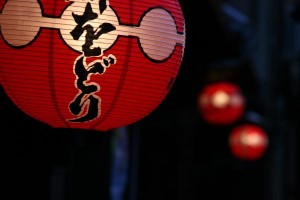 Gion is the most famous of the Geisha districts. It became highly popular servicing pilgirms travelling the Tokkaido to Yasaka Shrine. Gion Kōbu (祇園甲部) and Gion Higashi (祇園東) split many years ago; Kōbu ("Bump") is larger, occupying most of the district, while Higashi (East) is smaller and occupies the northeast corner, centered on its rehearsal hall. Gion Kobu has its own Kaburenjo Theater where the famous Miyako Odori "dances of the old capital" are held each year.
Gion has been declared a cultural preservation center with several streets having been renovated to show off traditional machiya townhouses. Shinbashi Dori running along the Shirakawa canal has preserved many beautiful teahouses and ochiya and is sometimes called the most beautiful street in Japan.
Gion is said to be the most exclusive of the geisha districts. Many famous geisha have originated from this area and it was popularised in the West through Minako Iwesaki's memoirs and Arthur Golden's sensationalist novel Memoirs of a Geisha.
The symbol for Gion Kōbu is a ring of skewered dango (sweet rice dumplings) white on a red background centred around the kanji for Kō.
上七軒 – Kamishichiken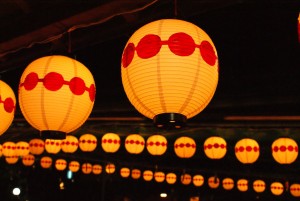 Kamishichiken is the oldest of the remaining geisha districts. Kamishichiken means "seven upper houses" and refers to the seven teahouses that were built in the area from materials from the Kitano Shrine in the Muromachi period.
Kamishichiken is located in North East Kyoto's in the Nishijin area which was the textile district its distance from the city center makes it quieter and less well known to tourists. Kamigyo-ku is bordered by the Kamo river in the east and the streets are lined with traditional dark wooden buildings, mainly ochaya (teahouses) and okiya (geisha houses). Today there are approximately 25 maiko and geiko in Kamishichiken, along with 11 teahouses.
The district crest is a ring of skewered dango (sweet rice dumplings). On lanterns they appear as red circles on white paper – similar to the Gion crests but reversed in colour.
Hanamachi of Tokyo
The Tokyo hanamachi are sometimes sneered at for lacking the ceremony and reservation of the Kyoto districts. Tokyo has no maiko and training periods are shorter and less ritualised leading some to believe they are less worthy of adulation. Despite this their is no doubt to the power and money centered around modern Tokyo ensuring patrons are wealthy and frequent.
浅草 – 

Asakusa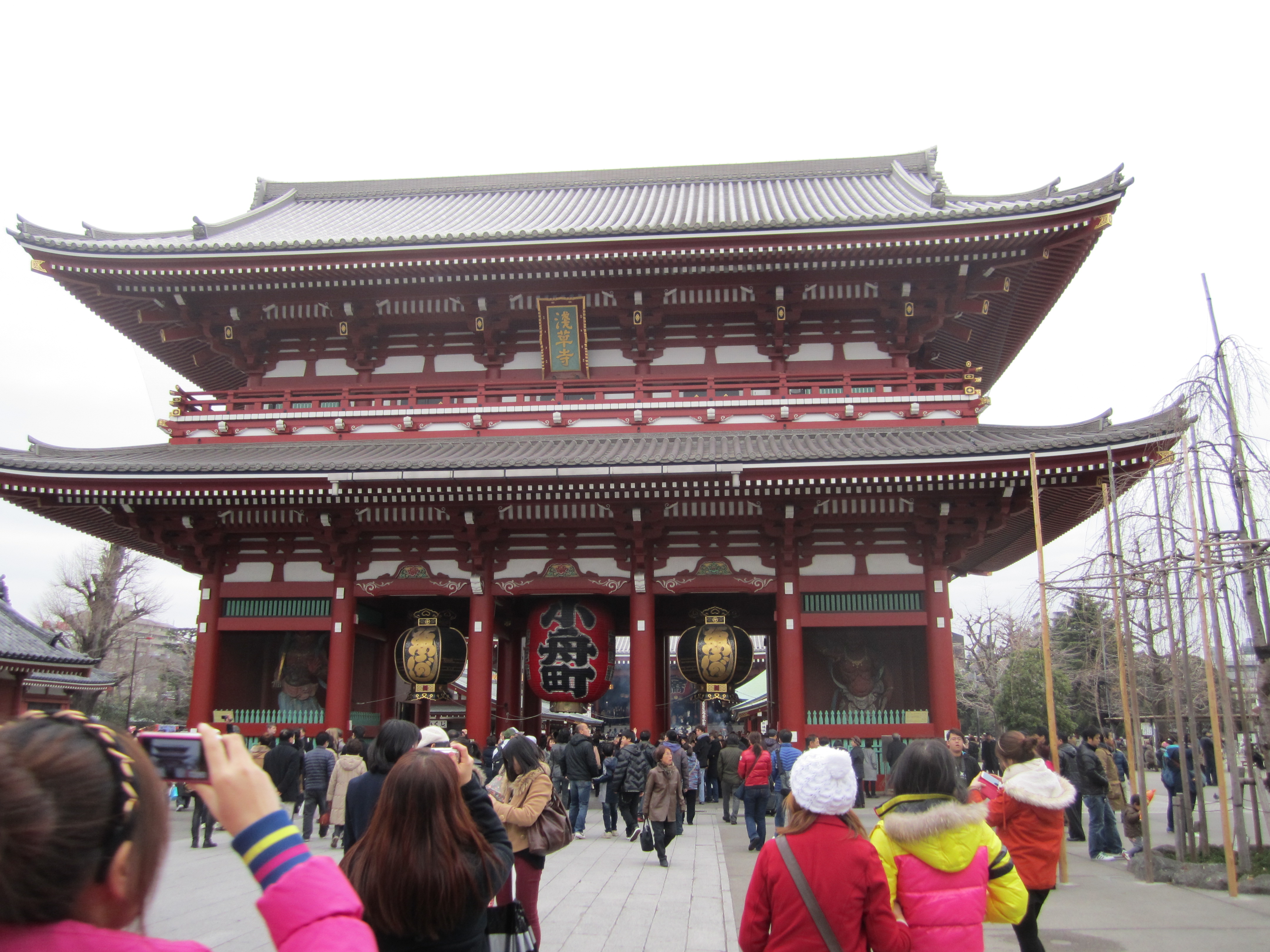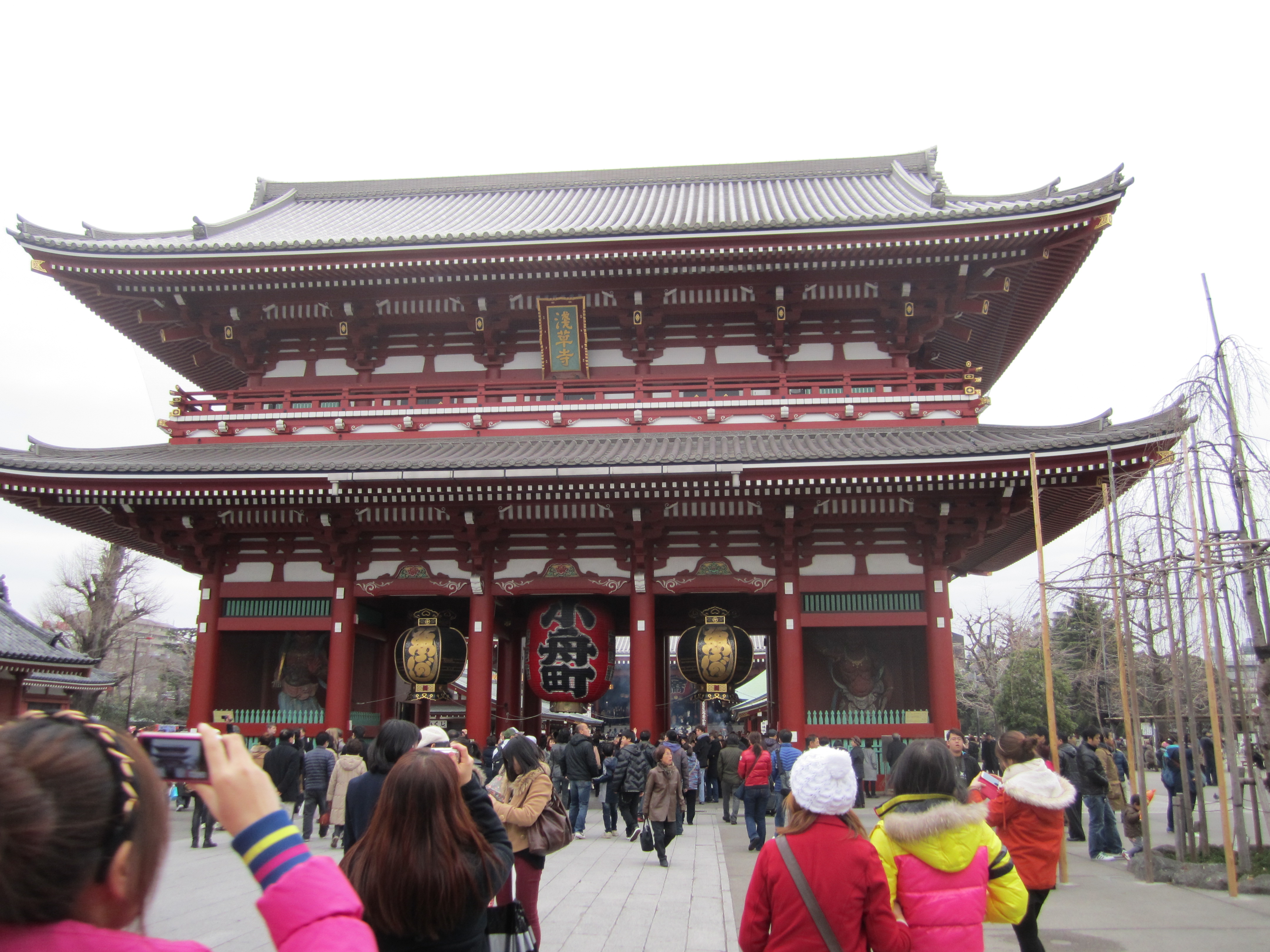 Asakusa similarly to Gion was a popular tourist hot spot on the Tokkaido due to the location of the Sensoji Temple and its thriving tourist market. Asakusa is still a bustling entertainment hub filled with lively night spots, restaurants and bars. The hanamachi nestles behind Sensoji at Kannonura Street.
Traditional architecture is well preserved throughout Asakusa and while several ochaya remain the Asakusa geisha community is well known for its privacy. Access to the community is generally restricted with little to no tourist access despite regular ozashiki banquets in the district.
Sayuki the famous Western Geisha was resident in the Asakusa hanamachi throughout her career.
新橋 – Shinbashi
Shinbashi (new bridge) was historically the site of a large bridge across the  Shiodome River (later filled in). Shinbashi famously became the terminus of the first Tokyo railway and remains a large transportation hub. Today Shinbashi is a bustling business and commercial district in Tokyo but some ozashiki banquet venues remain.
赤坂 – Akasaka
Akasaka (Red Slope) is a residential and commercial district of Minato, Tokyo, located west of the government center in Nagatachō and north of the Roppongi nightlife district. While some geisha establishments are still in existence Akasaka (6 as of 2004) it is now devoted to modern mizu shobai and is primarily filled with hostess and night clubs. The decline of Akasaka geisha is often attributed to the 1970s reforms on government spending when political representatives were no longer able to expense lavish banquets and entertainment.
神楽坂 – Kagurazaka 
Like other popular Edo period geisha districts Kagurazaka was on a commonly traveled road near Edo Castle opposite the Ushigome bridge over the castle moat. In the early 20th century, the area was renowned for its numerous geisha houses, of which several remain today. Positioned between two exclusive universities Waseda University and University of Tokyo the district still maintains several high end kaiseki restaurants and a geisha association. It has also become known as a district for French expats and restaurants.
Hanamachi in other regions
新町 – Shinmachi (Osaka)
Shinmachi was famous as one of the pleasure quarters where courtesans were common during the Edo period. Osaka is a serious party town filled with food and nightlife only a short distance from Kyoto. Shinmachi still operates as a geisha district and annual dances Naniwa Odori are held in April.
熱海 – Atami (Shizuoka)
Atami is a seaside onsen destination and the Atami geisha are "onsen geisha" sometimes held for being a lower class offering of this entertainment more about flirtation and bathing than about culture and dance. Suyo Masuda wrote her famous novel after her experience as an onsen geisha.
Atami still has a geisha association and offers are more tourist friendly entertainment option including annual Atami dances, weekly tea ceremony events and an affordable banquet entertainment offering.
Kanazawa
Interactive Map